Trying to find a way to make your garden even greener this season? Then it is time to ditch those plastic planting pots that usually end up in landfills anyway and start thinking biodegradable!
No Glues. No Binders. Nothing Artificial. This is how DOT Pots™ describes its unique gardening products. For them, what the pots are made of is just as important as what they aren't made of. The biodegradable pots are created solely from all natural wood fibers, 80% spruce fibers and 20% peat moss, which are harmless to the environment. The pots, available through Bethel Organics, are the first and only 100% organic, biodegradable plantable pots in the world!
We know biodegradable is a fancy word that is being thrown around a lot in the 'green' world today, but what does it actually mean for your garden? Before it has dissolved into the earth, the walls of the pot retain water so that less water is needed. The plant roots, which grow even stronger in the DOT Pots, then easily grow right through the bottom of the pot when they have developed enough. For those of us who have trouble with transplanting, these DOT Pots will be your saving grace. The entire pot is placed in the ground once the plant is ready to upgrade to a bigger amount of soil, so you won't lose nearly as many plants to transplant shock.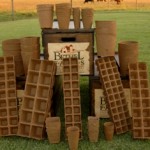 The EPA has reported that only 3.9 percent of plastics are recycled each year, which means our landfills are being filled with tons of waste that could be avoided. And this waste is anything but good for our environment. Most plastics, especially those made many years ago, contain chemicals that are released when the plastic is put in a landfill or littered. These chemicals can eventually seep into groundwater and become a health risk to both wildlife and humans. Using biodegradable pots like the DOT Pots helps keep those pesky plastic flower containers from being made, and ultimately from being thrown in landfills.
Stronger plants, environmentally friendly, no clean up necessary, and no waste created. Why wouldn't you choose DOT Pots for your next garden project? For more information on these pots and to find out where they are sold you can visit DOT Pots or Bethel Organics.
Looking for other ways to go 'green'? Recycling for Charities keeps tons of e-waste out of landfills each year through recycling, and helps raise funds for non-profit organizations in the process. To learn more, visit our website or follow us here:
Recycling for Charities would like to thank Bethel Organics for their extremely generous donation. The donated DOT Pots will be used as eco-friendly giveaways at our upcoming Earth Day events where RFC hopes to educate the community about the importance of recycling e-waste.