Let's face it- Michigan weather is never predictable! While the rain continued to come down on April 25, it didn't stop brave participants from joining Recycling for Charities at the Recycle Royal Oak event.
Many families fearlessly made their way to the different green stations set up in downtown Royal Oak for the event.  Make and take crafts were provided by Arts & Scraps, SOCRRA had recycling bins on site for sale, and OUR Credit Union provided free document shredding. And of course RFC was there to collect e-waste from community members! For being so green those who donated were able to sign up to win a free Digital Camera or Digital Photo Frame, provided by Kodak. Below are our winners, who we thank again for taking the time and braving the rain to donate!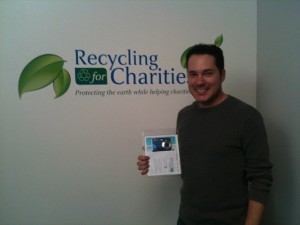 Kevin Patrick Miller and his new Kodak Digital Camera
"What a great unexpected surprise. It made my day!"
Nicola Davis showing off her Kodak Digital Photo Frame
"Oh my I love our frame- we have been playing with it and it took me all evening to load 400 pictures on it! What a fun toy!"
Through RFC's Earth Day events, and with the help of local participating businesses, we were able to collect over 150 electronic waste items for recycling. Imagine if this e-waste had been thrown out, ending up in our landfills with the chemicals possibly seeping into local ground water! Not only were we able to save these electronics from affecting our environment but we also helped raise funds for two worthy non-profits, the Hospice of Michigan and the Oakland Land Conservancy. RFC was also able to give away the ever popular biodegradable pots with planted vegetable seeds! Over 150 pots were handed out at our Earth Day events, many to kids who were excited to get their gardens started right away!
From communicating with possible partners to placing donation requests so that participants did not walk away empty handed at events, Winter Greenterns Jenny and Katie were involved with the entire event planning process. The Greenterns spent time writing press releases, contacting media sources, spreading awareness through social media, and convincing local businesses to help our green cause! But most importantly Jenny and Katie were able to see how a non-profit organization functions behind the scenes and gained real job experience. It also didn't hurt that they worked in a fun and energetic setting at the Recycling for Charities office!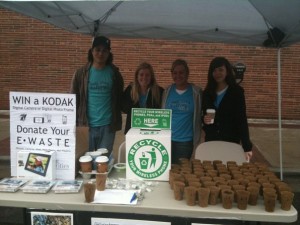 Part of the Recycling for Charities Team with the Greenterns
A special thanks to all donors and participating businesses who had to put up with weekly intern visits and calls! We truly appreciate your support: AlexEmilio Salon, Bean and Leaf Café, Bethel Farms, Café Muse, Douglas J Salon, Nutri-Foods, Scout, Siegers Seed Co., Shine, TASI Juice Bar, and Titzy's.