Recycling for Charities could not have asked for a better day to celebrate the 40th Anniversary of Earth Day. The sun was shining down on their eco-friendly Smart Car; the newest hits provided by 98.7 AMP Radio kept everything upbeat and the donations pouring in. The campus of Oakland University was glowing green thanks to students, staff and local community members.
Interested overseers hung out during set up and engaged in conversation about various green facts and how to help maintain our Earth with volunteers from Recycling for Charities (RFC), Sustaining Our Planet Earth (SOPE), Reverb and The Salvation Army. From 11:30 a.m. until 1:30 p.m. there were several tables stationed outside of the Oakland Center that provided food, key chains, pins, green facts, seeded pots,  and activities. Students, staff, and members of the community had the opportunity to donate their broken/old phones, iPods, cameras, electronics and clothing. All donors were entered in a drawing for eco-friendly prizes. Recycling for Charities raffled off a Kodak Digital Camera and a Digital Photo Frame. The winner of RFC's raffle will be announced and contacted sometime next week.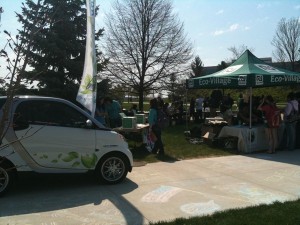 The Earth Day Celebration helped RFC keep 50 tons of e-waste out of landfills. Also, the raised funds were donated to the Michigan Hospice. The Salvation Army walked away with bags upon bags that will help clothe our community and Reverb promoted their Campus Consciousness Tour encouraging students to actively go green. Green gardens will be growing this spring too as the biodegradable pots provided by Bethel Farms and planted with seeds from Siegers were a big hit! The teamwork from all organizations combined to create an exciting, fun and educational environment.
If you thought you missed out on the fun, think again! We will be in Downtown Royal Oak this Sunday, April 25, from 12 p.m. until 4 p.m. continuing the celebration of Earth Day with Recycle Royal Oak. Bring your e-waste!
You can also stay updated about our green initiatives and events by following us on Facebook and Twitter.