Donation drive brings in food, clothes, toys for tots
Observer & Eccentric Newspaper
ROYAL OAK, MI - December 15, 2005
A weekend charity drive will bring warmth and happiness to local families.
The founders of Recycling for Charities held a 48-hour donation drive last weekend, accepting clothes, food, toys and recyclable electronics.
Dwight Zahringer, one of the founders, and other members of the group spent the 48 hours camped out at the Walgreens at Woodward and 13 Mile with a semi-truck, accepting donation for various local charities.
In the end, the semi-truck was three-fourths full of warm clothes for the Society of St. Vincent de Paul, and they had gathered two large barrels of food (535 lbs.) for Gleaners Community Food Bank of Southeastern Michigan, about 50 toys for Toys for Tots, $300 in cash donations and about 200 cell phones for Recycling for Charities.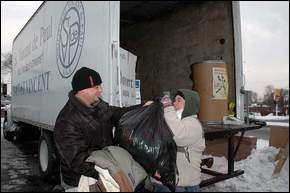 Dwight Zahringer and Tara Armbruster from Recycling for Charities load up donated clothes during a 48-hour donation drive. Clothing donations filled three-fourths of the truck

"It went really successfully," Zahringer said. "Our biggest goal was to fill the truck up, and I am pretty satisfied with this."

He said a lot of donors stopped by between early morning and mid-afternoon, but there were a few times they were swamped with donations.

"At some points it was like lunch hour at McDonald's. We were backing up traffic with people coming in," Zahringer said.

A lot of the clothes were warm jackets for children, he said, which are essential during winter.

Other donations were beyond what he expected. One donor dropped off five sets of skis and some people brought office equipment.

"One woman brought in a small library of children's books, which I thought was really, really great," Zahringer said.

The donation drive was set up in about a week and a half, and that was possible because Recycling for Charities is already affiliated with the other charities.

Recycling for Charities takes donated electronics, receives money from vendors that recycle the items, then passes that money onto the charities. Donors can even choose which charity they want their donation to go to, and the group's Web site, www.recyclingforcharities.com , makes donating simple.

(248) 546-4900 ext. 230 jbardelline@mirrornews.com

{{/RFC}}

{{RFC}}