How Recycling for Charities Works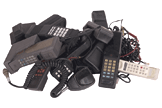 By donating your cell phone to Recycling for Charities, you are performing a true service to both the environment as well as the charity you choose to support.
Step 1: Collect Old Wireless Cell Phones, PDA's, iPods or Digital Cameras
Those who wish to make a charity phone donation can initiate the process by simply collecting any sort of unused cellular phone, PDA, Palm Pilots, digital cameras or iPods. If you know many people who would like to donate their electronic devices, take recycling a step further by organizing fundraising recycling drive or corporate event. The more people that donate old cell phones, the more the environment and local charities can benefit.
Step 2: Select The Charity To Benefit From Your Donation
Next, select one or more charities you want to help. Recycling for Charities then makes a donation on your behalf for each mobile phone, PDA, iPod or digital camera you collect.

Step 3: Mail Items Using Our Ready-Made Shipping Label
To complete the process, simply print out the shipping label directly from our website. Affix the label to your box, pack your collected donations and ship it to us. It's as easy as 1-2-3!