Yakima Humane Society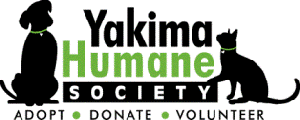 2405 W. Birchfield Road
Yakima WA 98901
Phone: (509) 457-6854
Fax: 504576919
A little about us: The Yakima Humane Society was founded in 1904, becoming an incorporated entity in 1906. We are a private, nonprofit animal welfare organization proud to be serving the people and animals of Yakima County for over 100 years. We practice and promote the humane treatment of animals through animal control services, pet adoption, humane education, information, referral and quality animal care.

Mission Statement
The Yakima Humane Society is committed to ending animal suffering and cruelty, reducing animal overpopulation, and educating the public regarding responsible pet ownership while promoting community kindness and commitment to their welfare.

Facts:
We are an independent, nonprofit organization. We are not associated with any government agency, nor affiliated with any national organization. We are the only open admission animal shelter in the entire county. All pets are welcome here. We can never, and will never, close our doors or say we're full. We save more than 7,000 animals a year. With no time limits.
Yakima Humane Society Photo Gallery
Yakima Humane Society does not have any images in their photo gallery.

{{/RFC}}

{{RFC}}