Torah Day School of Atlanta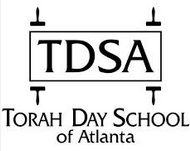 1985 Lavista Road, NE
Atlanta GA 30329
Phone: (404) 982-0800
Fax: (404) 248-1039
A little about us:
Torah Day School of Atlanta was built on the philosophy of teaching each child על פי דרכו, according to their way. Since our school's inception 27 years ago, the faculty and administrators have sought to teach and develop each child academically, socially, physically or spiritually, according to his or her individual needs.
TDSA offers a rigorous academic program both in Judaic and general studies. Our goal is to infuse our students with a love of learning, a deep seated connection with their Torah heritage, and the capacity to advance along any academic and career path that they should choose.
Torah Day School of Atlanta is a beneficiary agency of the Jewish Federation of Greater Atlanta.
Events
Torah Day School of Atlanta does not have any upcoming events.
Torah Day School of Atlanta Photo Gallery
Torah Day School of Atlanta does not have any images in their photo gallery.

{{/RFC}}

{{RFC}}