ProLiteracy Detroit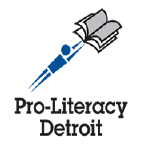 7375 Woodward Suite 2800
Detroit MI 48202
Phone: (313) 872-7720
Alternate Phone: (313) 872-1333
A little about us: Every resident of Detroit, Highland Park, and Hamtramck should have the opportunity to be an informed citizen, a supportive and involved parent, a viable employee, and a lifelong learner.
ProLiteracy Detroit makes this possible through the recruitment, training, innovative, goal-driven tutoring programs.

ProLiteracy Detroit recruits and trains volunteer tutors to provide free tutorial services for adults aged 16 and older.
Events
ProLiteracy Detroit does not have any upcoming events.
ProLiteracy Detroit Photo Gallery
ProLiteracy Detroit does not have any images in their photo gallery.

{{/RFC}}

{{RFC}}