Children's Craniofacial Association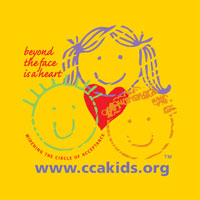 13140 Coit Road
Suite 517
Dallas TX 75240
Phone: (214) 570-9099
Alternate Phone: (850) 619-4404
Fax: (214) 570-8811
A little about us: Children's Craniofacial Association is a national, 501(c)3 nonprofit organization, headquartered in Dallas, Texas. Nationally and internationally, CCA addresses the medical, financial, psychosocial, emotional, and educational concerns relating to craniofacial conditions.

Our Mission
CCA's mission is to empower and give hope to individuals and families affected by facial differences.

Our Vision
CCA envisions a world where all people are accepted for who they are,
not how they look.
Children's Craniofacial Association Photo Gallery
Children's Craniofacial Association does not have any images in their photo gallery.

{{/RFC}}

{{RFC}}