Voice For Horses Rescue Network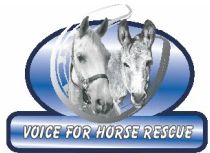 PO Box 566
Toledo OH 43697
Phone: (419) 247-0025
Alternate Phone: (419) 917-4264
A little about us: Who We Are
Voice For Horses Rescue Network (VFHRN) is an Ohio 501 (c) 3 Non-profit Humane Corporation organized in November of 1999 for the purpose of providing food, water, shelter and veterinary care to horses that are: sick, injured, abandoned, abused, neglected, slaughter bound or when an owner can no longer care or keep them. We also network with other equine rescues across the 50 states, local humane societies, law enforcement, therapeutic riding centres and horse clubs with the placement of horses. We receive no government, city or united way money. We are an all volunteer organization that is funded solely by the caring and generous public. VFHRN assists with cruelty investigations in cooperation with local humane societies and law enforcementofficials. Our goal is to help as many equine as possible, by alleviating equine abuse and neglect through awareness.



Our Mission

Mission-VFHRN is committed to relieving the causes of abuse and neglect, while providing for the humane treatment of horses, we focus on helping any equine in need across the US VFHRN is committed to eliminating the causes of equine suffering through intervention, education and community awareness while promoting humane ethics.

Voice For Horses Rescue Network Photo Gallery
Voice For Horses Rescue Network does not have any images in their photo gallery.

{{/RFC}}

{{RFC}}