Valley Christian Academy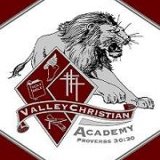 301 W. Whyte Avenue
Sacramento CA 95678
Phone: (916) 728-5500
Alternate Phone: (916) 721-3305
A little about us: Private Christian k-12 school.
Valley Christian Academy (VCA) provides excellence in education in a nurturing, Christ-centered and grace-oriented environment. Our mission is to challenge, motivate, and inspire students to grow in Christian character and to become equipped to be loving, responsible adults who will have a positive impact upon themselves, their families, their community and our beloved Lord.

Events
Valley Christian Academy does not have any upcoming events.
Valley Christian Academy Photo Gallery
Valley Christian Academy does not have any images in their photo gallery.

{{/RFC}}

{{RFC}}