The HALO Foundation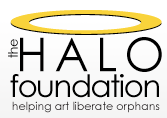 1600 Genessee
#528
Kansas City MO 64102
Phone: (816) 472-4256
A little about us:
The HALO Foundation is committed to enhancing living conditions and providing art therapy for orphans worldwide. HALO provides American youth with opportunities to learn philanthropy and volunteerism by seeing the world through the eyes of the less fortunate.

Orphans supported by HALO are provided food, water, shelter, clothing, education, and art therapy. HALO works with orphanages in Mexico, India, Cambodia, Vietnam, Africa, and Nicaragua. The children in these homes submit their artwork to be auctioned off at our Heart Auction in the U.S. Proceeds go back to the orphans.
Events
The HALO Foundation does not have any upcoming events.
The HALO Foundation Photo Gallery
The HALO Foundation does not have any images in their photo gallery.

{{/RFC}}

{{RFC}}