Special Equestrians, Inc.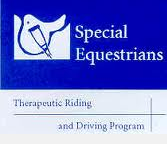 2800 Street Rd
P.O. Box 1001
Warrington PA 18976
Phone: (215) 918-1001
Alternate Phone: (215) 918-9081
Fax: (215) 918-9080
A little about us:
Special Equestrians provides Therapeutic Riding and Hippotherapy to individuals with disabilities, as well as several other equine-assisted programs.
WHO CAN BENEFIT FROM OUR EQUINE-ASSISTED THERAPIES
Our experience at Special Equestrians bears out the results of long-term, global research into therapeutic riding: students experience physical, emotional, and mental rewards from therapeutic riding.
For individuals with impaired mobility, horseback riding gently and rhythmically moves their body in a manner similar to a walking gait.

For riders with cognitive or emotional disabilities, the unique relationship formed with a horse can help in improving interpersonal relationships, while the presence of the instructors and volunteers encourages social interaction and trust.
Equine-assisted therapies are beneficial for individuals of all ages looking to
increase their core muscle tone so they can sit for longer periods of time

develop the strength and flexibility in their legs to improve mobility

increase self-esteem and confidence

work on cognitive and learning skills

enhance self-awareness and social skills

have fun working around horses.
Events
Special Equestrians, Inc. does not have any upcoming events.
Special Equestrians, Inc. Photo Gallery
Special Equestrians, Inc. does not have any images in their photo gallery.

{{/RFC}}

{{RFC}}