Rosemary Children's Services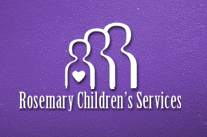 36 South Kinneloa Ave
Suite 200
Pasadena CA 91107
Phone: 6(268) 443-033e
Fax: (626) 844-3039
A little about us: The mission of Rosemary Children's Services is to help children, adolescents and families heal from their pasts and move toward productive and fulfilling futures, by providing the highest quality of therapeutic support, education and permanency planning.
Rosemary Children's Services continues as one of the oldest West Coast charities that helps boys and girls of all ages who have suffered abuse, neglect and abandonment. Its programs include a Foster Care Program, which helps nearly 400 children, annually, throughout Los Angeles, San Bernardino and Riverside Counties, a Non-Public School providing specialized education in a small structured environment, a Mental Health Program to provide individual and group therapy and training in various life skills, and the Residential Program which includes Rosemary Cottage and four group homes.
Events
Rosemary Children's Services does not have any upcoming events.
Rosemary Children's Services Photo Gallery
Rosemary Children's Services does not have any images in their photo gallery.

{{/RFC}}

{{RFC}}