Rock Steady Boxing Windy City, Ltd.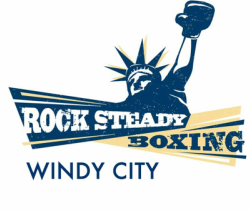 A little about us: ROCK STEADY BOXING WINDY CITY, LTD.

October 5, 2016


Dear Community Partner,

Rock Steady Boxing Windy City Ltd. is a 501(c)(3) non-profit organization that provides non-contact boxing fitness programs designed intentionally to help people diagnosed and living with Parkinson's disease (PD). The classes apply the fundamentals of boxing training to Parkinson's specific exercises to literally fight back against PD. Medical studies have shown that forced, intense exercise can slow the progression of the disease. Initial research has shown that the RSB method can slow the progression of the disease by enhancing the physical and psychological well-being of participants. RSB also empowers boxers with its message of hope and motivation. They may not win titles or trophies, but all are champions in the Rock Steady Boxing ring.
The mission of RSB is to maximize the quality of life for people living with Parkinson's disease through a non-contact boxing exercise program. We provide an atmosphere that fosters hope by empowering participants to fight their disease and live a long, fulfilling life.
Donation Request
Rock Steady Boxing, Inc. (RSB) is a local nonprofit organization, the first of its kind in the Chicagoland area, serving people with Parkinson's disease at facilities in downtown Chicago and Deerfield, IL. We are requesting in-kind donations for our up-coming "Punch Out Parkinson's" fundraiser on Thursday, December 1, 2016. Our current monthly dues only account for 60% of our operating budget. We are seeking additional funding to help us keep the cost low for our fighters so they can continue to participate in our programs at an affordable cost. Currently, Medicare and insurance companies do not reimburse for community based/continued exercise programs, which is why we strive to make our programs as affordable as possible. The cost and quantity of medication people with Parkinson's is rising making even "affordable" programs unaffordable. Because of this we've established a scholarship fund for individuals who otherwise would be unable to participate. Profits from this fundraiser will be used in part to fund these scholarships .The fundraiser will be held at our Deerfield facility. No donation is too big or too small.

Punch Out Parkinson's is a night to inspire, create awareness, raise funds, and raise a glass to help us Fight Back Against PD. The evening will include food, wine, and beer tastings and music by one of our fighters. We hope that you will consider helping us in our endeavor.

Thank you for your kind consideration of this request.

Yours truly,




Eric D. Johnson James F. Kroeger
Executive Director Chairman of the Board

Events
Rock Steady Boxing Windy City, Ltd. does not have any upcoming events.
Rock Steady Boxing Windy City, Ltd. Photo Gallery
Rock Steady Boxing Windy City, Ltd. does not have any images in their photo gallery.

{{/RFC}}

{{RFC}}