New England Equine Rescues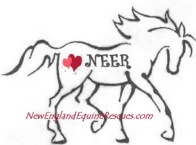 A little about us: New England Equine Rescues (NEER) is a growing 501(c)3 non profit organization that networks horse people all over the New England region. NEER is dedicated to helping all horses (we especially love the old and unwanted) in any way, including direct intervention for abused or slaughter-bound equines, effective horse placement, fundraising, and active support of the American Horse Slaughter Prevention Act. NEER needs good homes, foster homes, volunteers, transport, advice, referrals, and as much support as we can to help stop the abuse, neglect, and slaughter of horses. We are a large NETWORK of people ranging from an extra stall to larger non profit organizations. We welcome all horse people, location is not important. The more people, the better the network. NEER is 100% volunteer.
Events
New England Equine Rescues does not have any upcoming events.
New England Equine Rescues Photo Gallery
New England Equine Rescues does not have any images in their photo gallery.

{{/RFC}}

{{RFC}}