M.C.CHURCH LIBRARY EDUCATION CENTER CORP.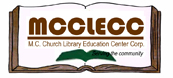 2801 Michigan Ave.
Fort Myers FL 33916
Phone: (678) 743-2021
Alternate Phone: (678) 743-2021
A little about us: Mission and Goal Statements.
A. The mission of the MC Church Library Education Center corp. is to provide

quality materials and services which fulfill educational, informational, cultural,

and recreational needs of the entire community in an atmosphere that is

welcoming, respectful, and businesslike.



B. The general goals of the MC Church Library Education Center corp. shall be:

1. To serve all residents of the community and the surrounding region.

2. To acquire and make available to all residents of the above area such books,

periodicals, pamphlets, and other services as will address their needs to a)

become well informed, b) locate answers to important questions, c) cultivate the

imagination and creative expression, d) develop skills for career and vocational

advancement, and e) enjoy leisure by means of reading and other media services.



3. To acquire the means to provide the most frequently requested material

locally and upon demand.

4. to maintain a program of service which locates information, guides reading,

organizes and interprets material for people of various backgrounds, and

stimulates thinking and intellectual development in individuals of any age.

5. To strive consistently to discover new methods and improvements for better

service for the library's customers.

6. to review regularly these goals of the Church Library Education Center Corp.

and, if necessary, revises them in the light of new developments.

.

M.C.CLECC is dedicated to make a positive difference in the education

and development of children and youth, beginning with school research

projects to quantify student's comprehensive contribution to math,

critical thinking, and social skills.



M.C.CLECC © develops approved curricula which are beneficial and

enjoyable to all students. Local M.C.CLECC, communities supplement

school instruction with competitions and adult mentoring in supportive,

welcoming environments. By providing a life-long learning opportunity

helping youths to become noble citizens with a sense of community,

commitment and compassion for others, this growing program will be an

important asset in our world and endure for generations.



Our primary focus is classroom instruction, complemented by after school

clubs. Our purpose is to develop and improve children's skills in

reading, writing, math and science, while fostering social, emotional, and

intellectual growth.


M.C.CHURCH LIBRARY EDUCATION CENTER CORP. Photo Gallery
M.C.CHURCH LIBRARY EDUCATION CENTER CORP. does not have any images in their photo gallery.

{{/RFC}}

{{RFC}}