Hope for Homeless Youth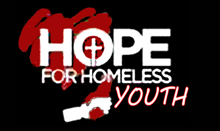 2406 Kent St.
Los Angeles CA 90026
Phone: (818) 441-3303
A little about us: Hope for Homeless Youth runs free shelters and rehabilitation homes for runaways youths, drug addicts, teenage prostitutes, and gang members. We enhance their skills and get past the digital divide with your donated computers and electronics. Contact Martin at 818-441-3303.
Hope for Homeless Youth Photo Gallery
Hope for Homeless Youth does not have any images in their photo gallery.

{{/RFC}}

{{RFC}}