Family Promise of Lycoming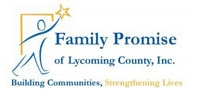 A little about us: Family Promise of Lycoming County empowers families to become and remain self sufficient by breaking the cycle of homelessness, provides community awareness and advocacy, and creates mission opportunities for individuals and faith based communities.

A society in which every family has a safe home, a sustainable livelihood, and the opportunity to build a better future for themselves and their community.
Events
Family Promise of Lycoming does not have any upcoming events.
Family Promise of Lycoming Photo Gallery
Family Promise of Lycoming does not have any images in their photo gallery.

{{/RFC}}

{{RFC}}