Communities In Schools of Detroit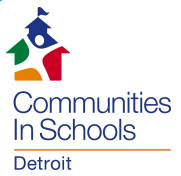 5575 Conner, Suite 205
Detroit MI 48213
Phone: (313) 571-3402
Alternate Phone: (313) 571-3404
A little about us: Since 1995, CIS of Detroit has developed partnerships with local and national foundations, corporations, community agencies, service agencies, faith groups, small businesses and other resources to provide high-quality educational and intervention services to Metro Detroit schools and after-school programs.

Services range from Whole Services offered to the entire school, Targeted Services provided to small groups of students who demonstrate the same, but possibly less severe, off track indicators (i.e. low self esteem, grief and loss, minor behavior infractions, academic struggles, etc.), and Intensive Servicesprovided to students who display early warning indicators and are most at risk for eventually dropping out of school (i.e. excessive absences, severe academic struggles, and behavior problems).
Events
Communities In Schools of Detroit does not have any upcoming events.
Communities In Schools of Detroit Photo Gallery
Communities In Schools of Detroit does not have any images in their photo gallery.

{{/RFC}}

{{RFC}}