Colorado Anti-Violence Program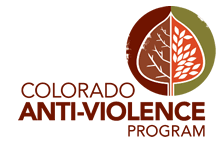 PO Box 181085
Denver CO 80218
Phone: (303) 839-5204
Alternate Phone: (303) 839-5204
A little about us: For eighteen years the Colorado Anti-Violence Program has been dedicated to eliminating violence within and against the lesbian, gay, bisexual, and transgender (LGBT) communities of Colorado, and providing the highest quality services to survivors. CAVP provides direct client services including crisis intervention, information, and referrals for LGBT victims of violence 24 hours a day.

The CAVP also provides technical assistance, training, and education for community organizations, law enforcement, and mainstream service providers on violence issues affecting the LGBT community.

The most common types of violence we work with are hate crimes and partner abuse. We also have cases that involve random violence, sexual assault, aid HIV-motivated violence.
Colorado Anti-Violence Program Photo Gallery
Colorado Anti-Violence Program does not have any images in their photo gallery.

{{/RFC}}

{{RFC}}