Cocker Spaniel Resources, Inc.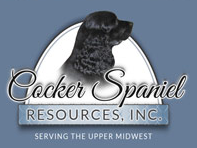 www.cockerspanielresources.org
P.O. Box 0822
Hudson OK 54016
Phone: (715) 425-9532
Alternate Phone: (866) 673-8571
A little about us:
Our mission statement as a charitable organization is to provide quality services for rescue, rehabilitation, adoption, and/or retirement for cocker spaniels of all ages, regardless of health conditions, through placement in permanent homes, sanctuaries, and foster care programs.
Our goal is to receive 3 cockers or cocker mixes each month and to rehome them in fur-ever loving homes. In 2010, we took in 100 dogs, and carried over 12 dogs into 2011. We are a foster-based rescue, therefore we are always looking for new foster homes to qualify to care for our homeless cockers. We only have one foster dog per home, and any other intakes must go to a boarding kennel. Our boarding bill at the kennel was well over $9000.00.
Cocker Spaniel Resources, Inc. Photo Gallery
Cocker Spaniel Resources, Inc. does not have any images in their photo gallery.

{{/RFC}}

{{RFC}}