Borrowed Time Equine Rescue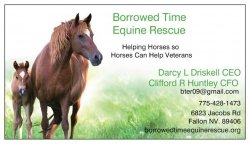 A little about us: Borrowed Time Equine Rescue is dedicated to the rescue and rehabilitation of horses, mules and donkeys. Our goal is to improve the quality of life for all equines that are neglected, injured, unwanted and slaughter bound. We give them a second chance at life by providing equine assisted therapy to Disabled Veterans. We also offer equines for adoption to loving homes or provide them with a safe haven in which to live out their lives.
Events
Borrowed Time Equine Rescue does not have any upcoming events.
Borrowed Time Equine Rescue Photo Gallery
Borrowed Time Equine Rescue does not have any images in their photo gallery.

{{/RFC}}

{{RFC}}