Beat the Streets Philadelphia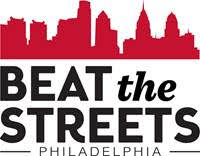 3700 Market St.
Suite 300
Philadelphia PA 19104
Phone: (215) 454-2255
A little about us: Beat the Streets Philadelphia is a youth development program that operates wrestling programs in under-resourced, inner-city schools and community centers, where we serve youth who are the most difficult to reach and at the greatest risk of dropping out. Beat the Streets Philadelphia believes that wrestling helps build confident, resilient youth who learn to grapple with difficult situations, literally starting on their hands and knees, developing real-time strategies to outmaneuver a situation, and sticking with it until they can stand up and stand tall. We support 30 programs that serve over 1,300 youth in grades K-12 throughout the region. The majority of these youth attend schools and live in communities that lack resources that are critical to their overall success and we provide programming and support to fill in these gaps. Wrestling is a fun hook that attracts kids and then instills personal accountability, a strong work ethic, and a disciplined approach. We established a mentoring program that provides more than 3,000 hours of one-on-one academic tutoring, career and educational guidance, and life skills development that helps them translate the skills they learn on the mat into classroom success. 95% of our students advance in grade level and/or graduate on time which is compared to the School District of Philadelphia average of 64%.
Beat the Streets Philadelphia Photo Gallery
Beat the Streets Philadelphia does not have any images in their photo gallery.

{{/RFC}}

{{RFC}}