Alaskan Malamute Rescue of North Carolina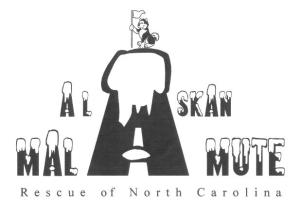 PO Box 32
Creedmoor NC 27522
Phone: (704) 795-0600
Alternate Phone: (704) 792-9218
A little about us: The mission of Alaskan Malamute Rescue of North Carolina is to enhance and protect the lives of purebred Alaskan Malamutes through direct rescue efforts, veterinary care, education and counseling, and re-homing efforts.
These efforts may include, but are not limited to, rehabilitation, training, promotion of spay/neuter, and veterinary care as needed.



The purpose of the organization shall be:


*To assist area animal control, humane societies, and Alaskan Malamute owners with the humane care and disposition of such purebred dogs.

*To work to prevent cruelty to Alaskan Malamutes and all breeds of dogs.

*To provide direct rescue efforts, medical care, and placement/adoption of such dogs.

*To provide education to owners on responsible pet ownership including the promotion of spay/neuter programs.
Alaskan Malamute Rescue of North Carolina Photo Gallery
Alaskan Malamute Rescue of North Carolina does not have any images in their photo gallery.

{{/RFC}}

{{RFC}}