A Way of Happiness Educational Society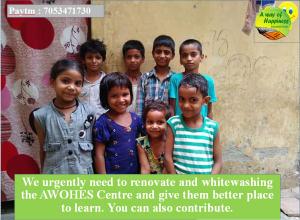 https://awayofhappinessblog.wordpress.com/
A-753, sangam vihar , New Delhi-62
A-945. Sangam Vihar, New Delhi-62
new delhi IL 92052
Phone: (705) 347-1730
Alternate Phone: (705) 347-1730
A little about us: A Way of Happiness Educational Society, founded on 24th June 2016, is a not for profit non-governmental organisation, run by a group of members of the society.

We are envisioning a society permeated with the spirit of brotherhood, in which its members help each other create a sustainable and harmonious environment, improving their lives through raised awareness of co-dependency and connectivity with their surroundings as well as globally.

We believe that the youth are the future of any society and there should be no differences when it comes to being exposed to knowledge and information. This is why we are providing quality school syllabus related classes and extracurricular activities for all members of our society, mainly children and youth.

In our work, we use non-formal education methods to bring the school closer to youngsters. Learning, after all, should be interactive and engaging, sparking curiosity and breeding a healthy relationship with attaining knowledge. This way we can ensure lifelong learning because of the newly awoken desire for the learning process to continue. Through a broad-minded attitude like this, an individual is able to not only act upon fulfilling his needs but also be a binding agent and promoter of change in the society.
We are striving to empower vulnerable sections of the society, especially underprivileged youth, so they will be able to raise their living standard, through education, vocational training and skill-based development.

Our objective is to provide underprivileged youth with opportunities for non-formal learning, vocational training and means for developing critical thinking to enable them leading more effective and satisfactory lives.


A Way of Happiness Educational Society Photo Gallery
A Way of Happiness Educational Society does not have any images in their photo gallery.

{{/RFC}}

{{RFC}}